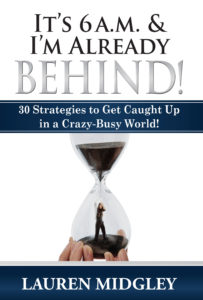 I'ts 6 A.M. & I'm Already BEHIND! 30 Strategies to Get Caught Up in a Crazy-Busy World!
by Lauren Midgley
Getting caught up every day is a goal for many, but may not easily be achieved. Likely, we are overwhelmed by all that still needs to be done. Leaders know that an anxious, overwhelmed team impacts profits, but more importantly, it impacts engagement and well-being.
This book contains 30 easy to follow strategies for getting caught up and staying caught up. Lauren Midgley provides examples to help the reader understand how to implement in their life.
$24.95
---
Extreme Personal Productivity Bootcamp
A three hour hands-on bootcamp to address the fundamentals of having a personal productivity mindset  Adopting this mindset will impact your productivity – at work and at home.
Bring your calendar, your existing task lists, and an open mind to learn new habits.
You will leave with an action plan for the next 30 days that will reduce your overwhelm and stress for a better life.
$197.00